Purchasing with the Sourcing Team
How do I utilize an established master agreement to request services and make purchases?
GUSS aims to provide the community with various vendors and service providers for frequently procured commodities. Take advantage of our professional purchasing experience to help realize the best quality of service and value for the desired product and service by utilizing our master agreements, or contacting the sourcing team if we do not currently have any masters that meet your needs. To use services under a master service agreement, please follow the simple steps below.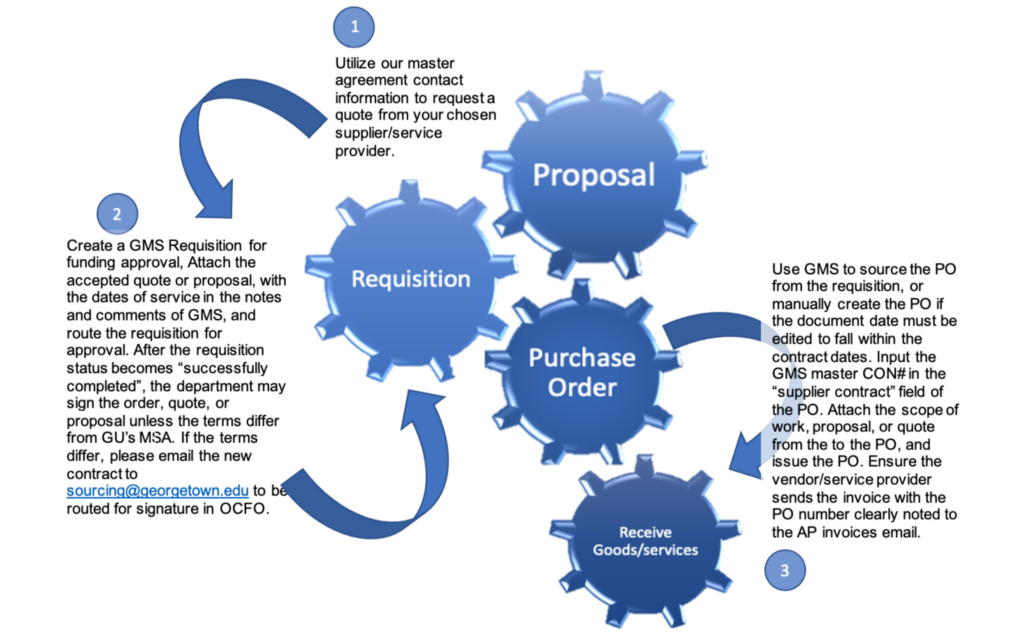 Please submit a new request for sourcing a product or service with the Master Agreement Change/Request Form.
Sourcing staff members are available to provide assistance to faculty and staff and can represent the University in a formal solicitation for competitive bids. By contacting the sourcing team before you are ready to solicit bids for a desired product or service, you can take advantage of our professional purchasing experience to help realize the best value and quality for the desired product and service.
Purchasing On Your Own
What questions should I ask possible vendors and suppliers?
Does your company have experience working with higher education institutions?
What is your customer service model and response time?
What happens if the university needed to cancel? What is expected of the university from the vendor/supplier?
Can you provide references for previous work?
Who will be your key contact with their company?
What is the supplier/vendors' approach toward communication? Does a phone call help get all your questions asked? Do they prefer email correspondence but you do not? Make sure neither of you misses an important order change because you differ on the best way to communicate.
How Much does it cost?
What should I do once I have identified a service or product I want to purchase?
After identifying a need for a product or service, staff within Georgetown University schools and departments must:
Understand and follow University purchasing and contract policies
Initiate purchase requisitions
Obtain appropriate departmental approvals
Follow University procedures for receiving and invoice processing, instructing suppliers to mail invoices to Accounts Payable at: PO-Invoies@Georgetown.edu
Can I sign a statement of work, proposal, or quote?
No statements of work, proposals or quotes should be signed by end-users unless they have been sourced directly through a master agreement.
What are the guidelines for when soliciting quotes from potential bidders?
Each potential bidder must receive the same information and business requirements. Be as specific as possible with requirements. Include manufacturer name and part number if available, a complete description of the desired product(s) and/or services, the delivery location and required-by date.
Obtain at least three quotations from competent sources of supply.
Provide a contact name, phone number and e-mail address for suppliers that may have questions regarding the request or requirements.
Clearly define bid submission instructions and submittal day and time.
Can I provide the supplier's information to another supplier?
At no time should one supplier's proprietary information be shared with another supplier.
How much time should I allow for a supplier to submit a quote or proposal?
Please remember to allow sufficient time (usually 2-3 weeks for complex requests) for the supplier to respond to a Request For Quotation, or proposal.
Purchasing with the Strategic Sourcing Department
What does the Strategic Sourcing department do?
The Strategic Sourcing Department is here to support schools, departments, and stakeholders in the acquisition of products and services for Georgetown University.
When Should I contact the Strategic Sourcing department?
Please contact the strategic sourcing department for information or formal requests and any templates you may need assistance with managing. We recommend you reach out to us about all purchases 25k and over that are not through a preferred supplier.
What are the roles of the Strategic Sourcing department once I contact them to purchase a product or service?
Proactively works with campus staff to assure the effective management and delivery of quality procurement services
Designs, and implements, strategic sourcing strategy on effective procurement processes
Maintains suitable sources of supply by facilitating supplier outreach for campus requirements and ensuring equal opportunity in University business contracting
Establishes competition wherever practicable including assisting in the development of procurement specifications, soliciting and processing requests for quotations, conducting negotiations for price, terms and conditions, and where necessary, conferring with counsel for advice and resolution of matters
Establishes annual price agreements and contracts in accordance with sound procurement practices. Such contracts and agreements include participation in specialty contracts and consortium agreements
How does the University decide which corporations to do business with? What goes into the process?
The process of selecting suppliers and partnerships begins with research and data in the supplier's respective industry. Once we have identified suppliers that fit into the statement of work or purpose of our procurement strategy, we then select the best quality, competitively priced, and/or diverse service provider we can. The negotiation process for suppliers is to ensure we meet the needs of the community and give back to the university. These incentives come in the form of rebates, discounts, internships, sponsorships, and scholarships for your school.
What types of incentives do suppliers offer Georgetown for us to source from them?
The sourcing department negotiates incentives to gather discounts, rebates, scholarships, athletic sponsorships, internships, and any other benefit that may be used for students and faculty.
How does Strategic Sourcing ensure that it's procuring relationships that provide excellent customer service for the Georgetown Community?
We are committed to providing quality supplier management solutions and review supplier performance on a bi-annual basis by development of a formal supplier performance review involving stakeholder grievances and monitoring any service level agreements negotiated with the supplier.