International Wire Transfers
Georgetown University partners with Flywire to provide a fast, secure way for foreign suppliers to submit international and wire transfer payments through Trolley. Foreign suppliers can be paid either in their local currency or in USD, regardless of whether their contract with the university is denominated in a foreign currency or in USD.
Flywire and Trolley allows the university to:
Pay via a direct deposit to any country and any bank
Transfer funds faster (average 2-3 business days)
Save on bank fees and ensure the best exchange rates with Flywire's Best Price Guarantee
Choosing a Payout Currency
When registering as a supplier, the supplier will be presented with the option to choose their payout currency, either the local currency or USD. USD has been enabled for all countries. 
As a default, Flywire encourages suppliers to receive payments in their local currency rather than USD. This is because international payment processors like Flywire have extensive global banking networks and bank accounts located all over the world in your suppliers' destination currencies. This allows for a streamlined, faster, and cheaper experience. To send USD abroad, you increase the chances of intermediary banks being used, who each want their slice of the pie, potentially resulting in your supplier receiving less than expected. It is also more costly to Georgetown to pay out USD than it is to pay out in the local currencies.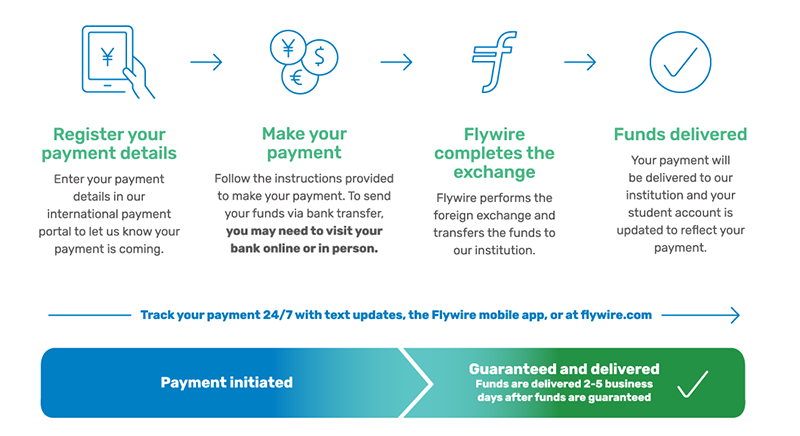 Process Overview
Suppliers who provide non-US bank account information, either at registration or afterwards via the supplier record management portal, will be listed in GMS with an "International Wire" as their default payment method. If all required information to set up a Flywire/Trolley profile has been provided and all information is valid, the supplier will be active and ready to pay immediately via "International Wire" using Flywire/Trolley. If Flywire/Trolley require any additional information to establish a profile and make the supplier active to receive payments, the supplier will receive an email from suppliercare@georgetown.edu asking to provide additional information and/or resolve any invalid pieces of data. The supplier record will remain listed as inactive in GMS until the Flywire/Trolley profile is activated.
FAQs
Do we still need to submit a manual wire transfer form or the GMS Wire?
Neither the manual wire form nor the GMS wire questionnaire will be required.
How do we change the payment type for international suppliers currently receiving payment via check, to wire?
The supplier is the only party that can initiate that change. The supplier or their representative will need to provide non-US banking information using the Supplier Record Management Portal.
How long will it take to issue a wire?
Once approved in GMS the invoice will be settled in the next payment cycle. Settlement takes place daily. A paid status in GMS does not mean that the supplier has been paid but the date payment was initiated. Payment via Flywire/Trolley typically takes 2-3 business days, but can take as many as 5 business days in some countries.
Is there a minimum dollar requirement for wires?
There is no amount restriction to pay an international supplier via wire.
Who do we contact if we have a question regarding wire transfer?
Will the approval process change?
The wire questionnaire and the cash analyst role have been removed from the process in GMS. This reduces the number of approvals required to issue payment.
How do I know if a supplier has been loaded into the platform?
All suppliers that have provided non-US banking information will be defaulted to receiving "International Wires." If the supplier record is active and is set to receive "International Wire" payment, then they are active in the Flywire/Trolley platform.
Supplier needs to update/change their bank account information or payout currency?
The supplier can make updates to their banking information at any time via the Supplier Record Management portal.
Supplier requires or requests the use of an intermediary bank account?
If your supplier works with and/or requires an intermediary bank, more common in exotic markets, please email payeesupport@flywire.com with the details of that intermediary bank before completing their bank account information. This ensures a better, and faster payment experience for the supplier and greatly reduces the chance of a bounced or returned payment.
What if I run into discrepancy issues with the FX rates?
Please note that the foreign exchange rates typically referred to in online publications are bank-to-bank (prime) rates, and that retail customers (like Georgetown and its suppliers) never receive those rates. Part of the reason Georgetown engaged with Flywire is that by aggregating many transfers, Flywire receives much better rates, and passes on some of that savings to Georgetown and its suppliers.
Who pays any applicable foreign exchange premium or fee?
Georgetown pays all Flywire/Trolley flat processing fees. With respect to the foreign exchange premium, the party that bears the burden depends on what currency the contract (and therefore payment) is denominated in:
If the contract/payment is in USD, and the supplier elects to receive payment in a foreign currency, then the supplier "pays" the foreign exchange premium, by receiving a transfer that is less than the prime rate.
If the contract/payment is in a foreign currency, then Georgetown "pays" the foreign exchange premium by paying more from its USD-denominated account than the prime rate, to make sure that the supplier receives the whole amount of the transfer in the foreign currency.
Additional Support
For payment questions: Carol Samayoa and Charisse Sobers.
For GMS related questions: Laverne Joynes or Richard Marea
For Georgetown staff support: outboundpayables@flywire.com
Hanna Hayden (she/her) is Georgetown's Relationship Manager at Flywire. For concerns and persistent issues, please email Hanna.hayden@flywire.com.