Methods of Accepting Payments
Georgetown University has an approved selection of payment products and systems to meet the payment acceptance needs of groups and organizations across the university. The approved options fall into one of two categories: card present solutions and eCommerce solutions. This sections below provide insight into each approved solution and point out key considerations in deciding which solution best fits the needs of your program.
The first decision you will need to make is how you would like to accept payments. Payments can be received in many ways, including in-person, on the internet, over the phone, and via paper mail. Compiling a list of ways your program will need to accept payments will be helpful when deciding which type of solution best suits the needs of your payment acceptance program.
Components of a Payment System
Components of a payment system can vary greatly depending on the chosen method of acceptance. The components of a card-present solution are generally less complex, requiring only a PNC merchant services account and an approved Point of Sale (POS) Device, like the Clover Flex.
Ecommerce solutions often require additional components to facilitate the electronic transfer of funds. Typically, an eCommerce solution will require a payor-facing payment application which supports the cardholder experience such as an online store. The payment application is linked to a payment gateway which is responsible for the communication of payment data before ultimately being settled through the PNC merchant services account.
Below are flow-charts depicting both the card-present and eCommerce processes as they normally occur. Please note, in some cases the eCommerce process may require additional or less components.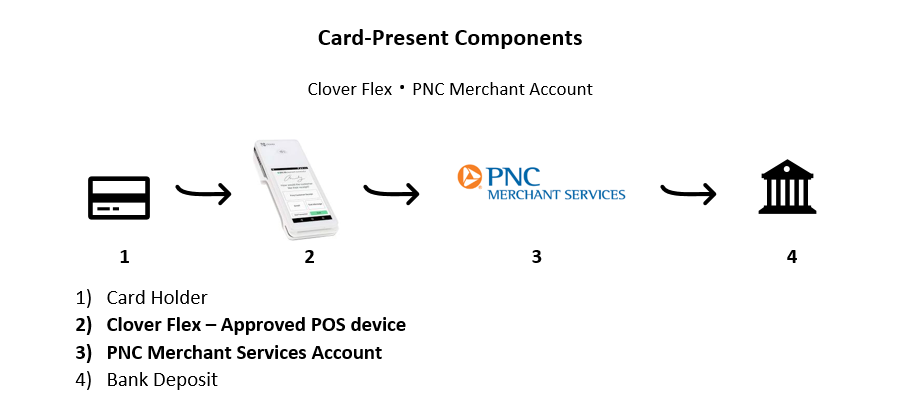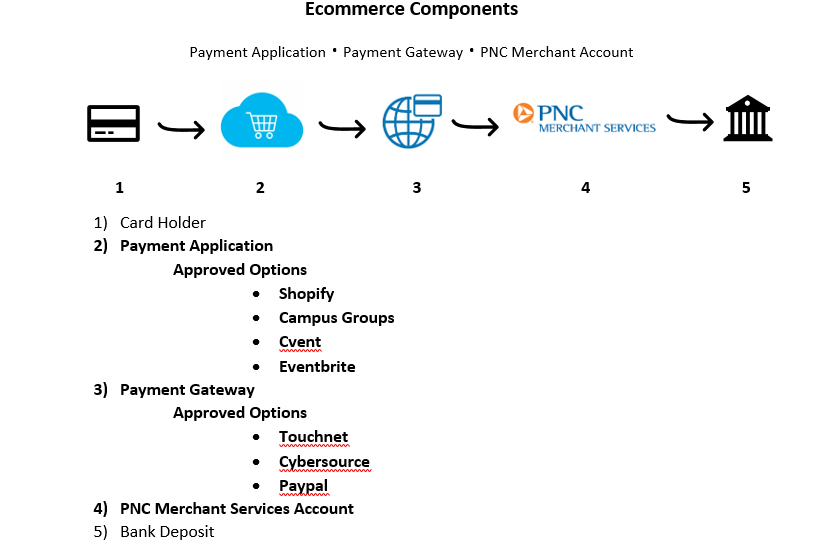 Consideration for Choosing the Right Payment Solution
In many cases, the programs design will dictate which type of solution is the best fit for your department. Programs that anticipate face to face or real-time transactions will be better suited with a card-present payment system as opposed to those operating through a webpage. Card-present payment systems are optimal for face to face transactions, mail-in transaction, and transactions processed over the telephone. Ecommerce solutions are optimal for web based or on demand payment functions.
When considering an ecommerce solution one of the most important decisions you'll make is which online payment system to use. Here are some key items to consider:
Cost: One of the most important factors will be the cost of your online payment system. The price varies between systems and can include setup costs, monthly fees, a fixed fees per transaction or variable fees based on a percentage of each transaction. You'll need to spend some time calculating anticipated transaction volume and gross dollar amount to aid in your decision making process.
Commitment/Contract Length: Please be aware of the commitment you're making to a particular payment system, especially if you think your requirements for a system are going to change quickly. Some systems will offer ad hoc options while others may require a greater commitment.
Functionality: If your operation requires the payment system to support special functions, it is a best practice to research each viable solution prior to making any commitment.
Examples of special functions: integrations with core business system, support recurring payments, invoicing, GMS integration, reporting, etc.