COVID-19 Purchasing
There are three (3) mechanisms to order COVID-19 supplies: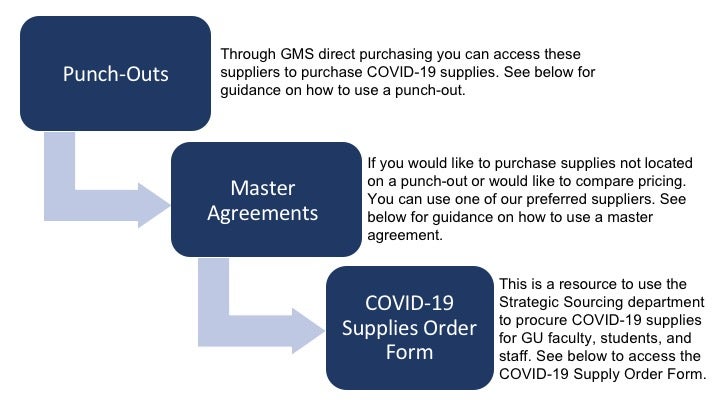 Place an order for COVID-19 supplies via the Order Form.
COVID-19 Supplies
In the wake of the novel coronavirus pandemic, many items related to personal care have been in high demand across the entire university. In an effort to assist our staff in planning for upcoming supply needs, the Sourcing Department has established multiple supply chains for these items for everyone's health and safety upon return to campus operations.
How to Utilize a COVID-19 Supplies Master Agreement?
To engage one of the selected suppliers to provide services under the master service agreement, you can reach out to the supplier directly to solicit a statement of work, proposal and/or quote for your service. Once this is received:
Create a GMS Requisition to request funding approval
Attach as supporting documentation the statement of work, proposal, and/or quote from the supplier, including the dates of service
Route Requisition for approval
Once approved, source Requisition and create a Purchase Order
When the department is ready to source the PO, the department may sign the statement of work, proposal, and/or quote. Master agreements include the same terms as a statement of work, proposal, and/or quote, so a departmental signature should not commit to any additional liability.
Reference the GMS master contract number on the purchase order
Ensure the scope of work, proposal, and/or quote from the supplier is attached to the Purchase Order and send to the supplier.
COVID-19 Suppliers and Master Agreements
All PPE

Dylan Anderson
Education & Research Sales Rep
dpanderson@medline.com
Phone: 518-928-6606
CON-0014040: provides hand sanitizer disinfectants, protective screens signage, masks, gloves, face shields, 3-ply disposable face masks, KN95 respirator masks, disinfectant wipes and sprays, gowns, digital thermometers.
Expected Delivery Time: 2-4 Weeks (subject to change)
Fogger Machines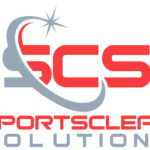 David Eyl
Co-Founder
David@sportscleansolutions.com
Phone: 202-256-5857
CON-0014084: proactively disinfects high traffic and vulnerable surface areas with confidence.
Expected Delivery Time: 2-4 Weeks (subject to change)
Other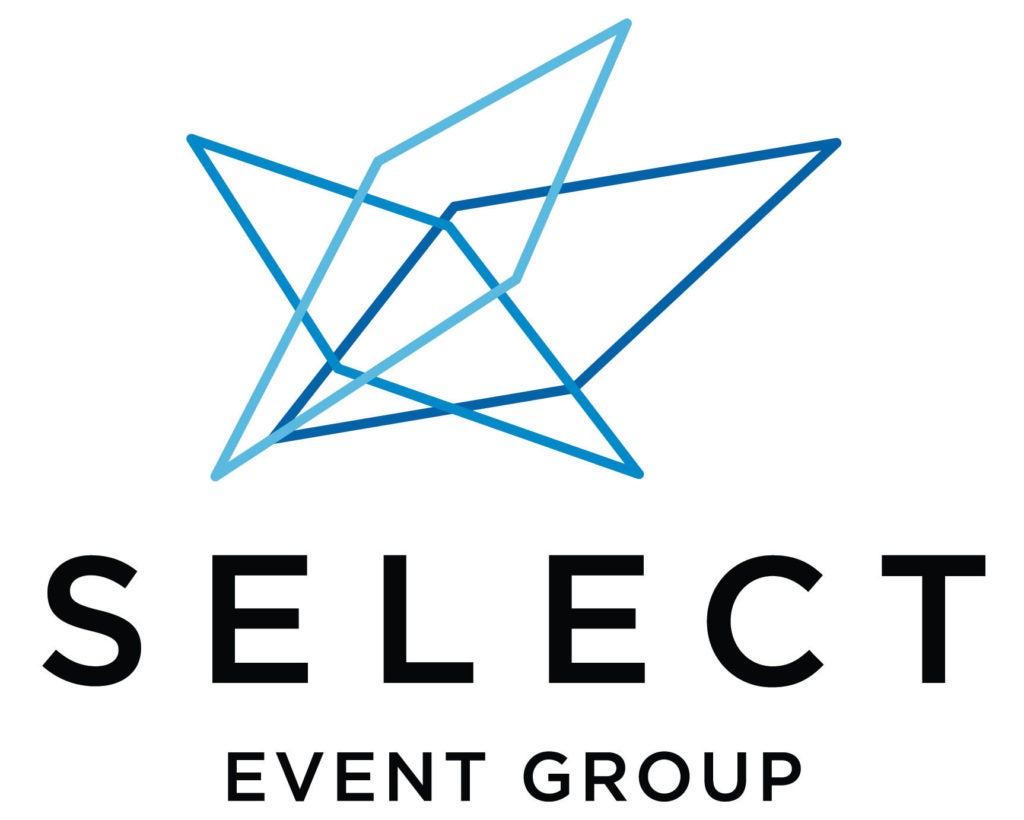 Schuyler Huyck
Team Director
C: 240-832-0208 | O: 301-604-2334
shuyck@selecteventgroup.com
Per the university's Campus Face Covering Guidance, all students, employees, and visitors are to wear a face-covering at all times, except when alone in a private room with a closed door or in a private vehicle. This guidance must be followed on all campus spaces, including buildings/grounds, shared laboratory areas, shared residence hall spaces, conference rooms, GUTS busses, etc.
Here are CDC guidelines on how you can best protect yourself and others:
Wear face coverings that cover the mouth and nose where social distancing measures are difficult to maintain. OSHA designates N95 masks as respirators, and they are currently reserved for use by healthcare providers and first responders only. *use of N95 masks requires medical evaluation, training and fit testing*
Wash your hands frequently with soap and water for at least 20 seconds. When this is not available use hand sanitizer that contacts at least 60% alcohol.
Gloves are only worn for routine duties by staff in areas such as facility maintenance, food preparation, research/teaching laboratories, and should never be worn in common areas. Follow CDC hand washing guidelines. In instances where the performance of job duties requires direct human contact other staff members may require disposable gloves based on increased general health/safety requirements.
While offices should remind them that they must follow the Campus Face Covering Guidance, the university is not responsible for providing face coverings to visitors, vendors, and contractors.
Frequently Asked Questions
If my department has an urgent need or is unable to locate a product, what do I do?
Please submit all urgent purchasing requests using the COVID-19 Supply Order Form. The Strategic Sourcing department is ready to assist with any needs.
If you are ordering a product from a catalog and it is available, please continue to order through GMS direct purchasing.
What is being done at the University level to ensure timely delivery of cleaning supplies?
The Sourcing department continues to be in contact with key suppliers that provide PPE & FFE supplies to discuss the availability of products. If you have immediate needs, please contact sourcing@georgetown.edu.
Can I purchase supplies and have them shipped to my home address?
No. Supplies should only be purchased for use directly in the workplace, lab, or research space on campus. Please continue to order supplies through the three mechanisms provided, GMS Direct purchasing, Master Agreements, or COVID-19 Supply Order Form. Please contact the sourcing department for any exceptions.
What if I need to cancel an event or an external service is no longer needed?
Please work directly with your sourcing department in the event that you need to terminate a contract related to a change of plans due to the COVID-19 impact. If you have lost deposits that are not refundable, there is a high likelihood that nothing that can be done. However, Procurement will work with our suppliers to negotiate credits or other options in order to minimize impact. In the event a contract was signed prior to our knowledge of COVID-19, there are certain contractual language we can leverage to alleviate commitments.
What if I don't have access to the punchout system?